The Temple Beth El Israel Adult Education Committee is proud to announce the following outstanding programs. Please mark your calendars and plan to attend.
Adult Education programs offered through the Temple are scheduled on Wednesdays from 10:00 a.m. to 11:00 a.m. in the Temple Sanctuary. Unless otherwise noted, TBEI Adult Education programs are free of charge for Temple members. Donations are always appreciated to help support year-long Adult Education programming.
October 24, October 31, November 7, and November 14 – Please refer to the flyer below for additional information.
Douglas O. Linder is the Elmer Powell Peer Professor of Law at the University of Missouri-Kansas City School of Law. He graduated summa cum laude from Gustavus Adolphus College and from Stanford Law School.
Professor Linder has published extensively in legal journals and books on such topics as great trials, legal history, constitutional law and the legal profession. He has served as a consultant on numerous documentary film and theatre projects involving historic trials.
For more than twenty years, Professor Linder has taught a seminar in famous trials using his own materials published on a website of his own creation, the "Famous Trials" website. This website hosts the largest and most varied collection of original writings, images and primary documents relating to 75 famous trials. It is the most visited trial-related site on the Internet and has been the subject of attention by the New York Times.
Professor is the coauthor of two books, "The Good Lawyer: Seeking Quality in the Practice of Law" and "The Happy Lawyer:  Making a Good life in the Law." He has appeared in televised documentaries and many cable networks to speak about great trials.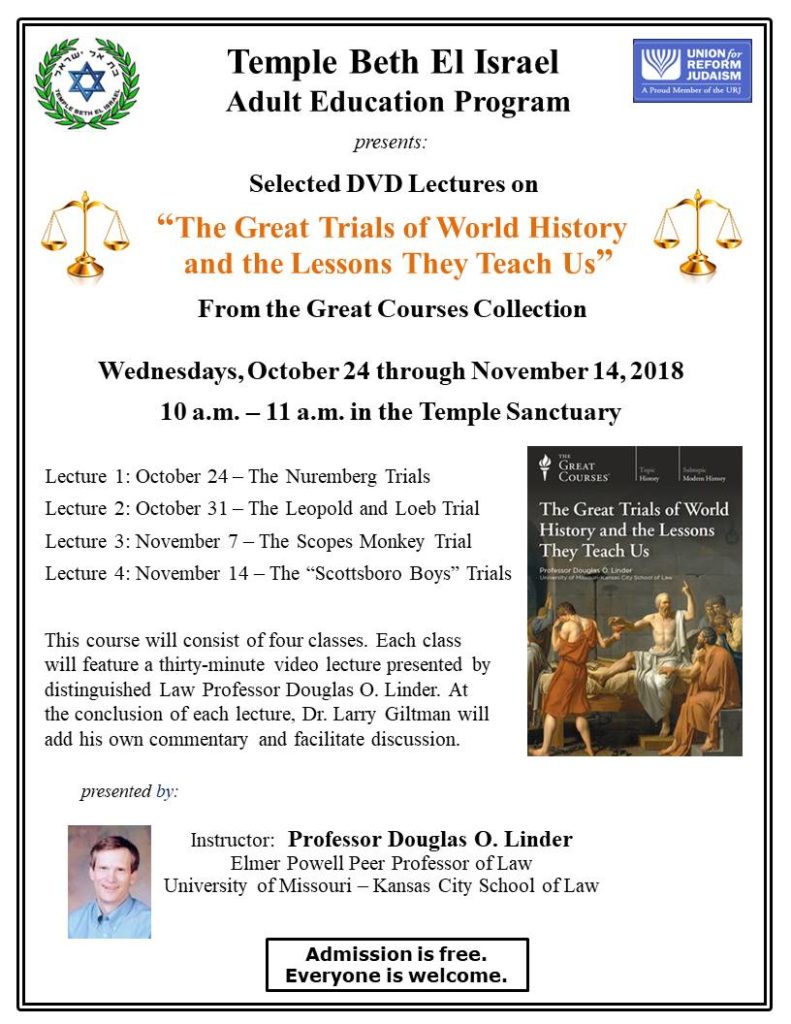 January 2, January 9, January 16, January 23, and January 30 – Please refer to the flyer below for additional information.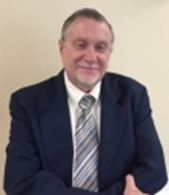 Dr. Giltman (Larry) was raised in Brooklyn, New York (where he still believes to be the place from where all civilization emerged). Larry received his undergraduate degree in Philosophy, with specific emphasis on comparative religion and ethics, from Long Island University. He received his medical degree from The University of Bologna, Bologna, Italy. Larry has been a practicing physician for the past 40 years spending the last 20 years teaching Pathology and Pathophysiology at Emory University School of Medicine in Atlanta, Georgia.
In conjunction with his wife Flo (married 47 years), Larry has been actively participating in adult education activities at Temple Beth El Israel since retiring to Port Saint Lucie in 2013. In addition to being a passionate tournament bridge player, Larry is a fiercely loyal and long-suffering New York Mets fan.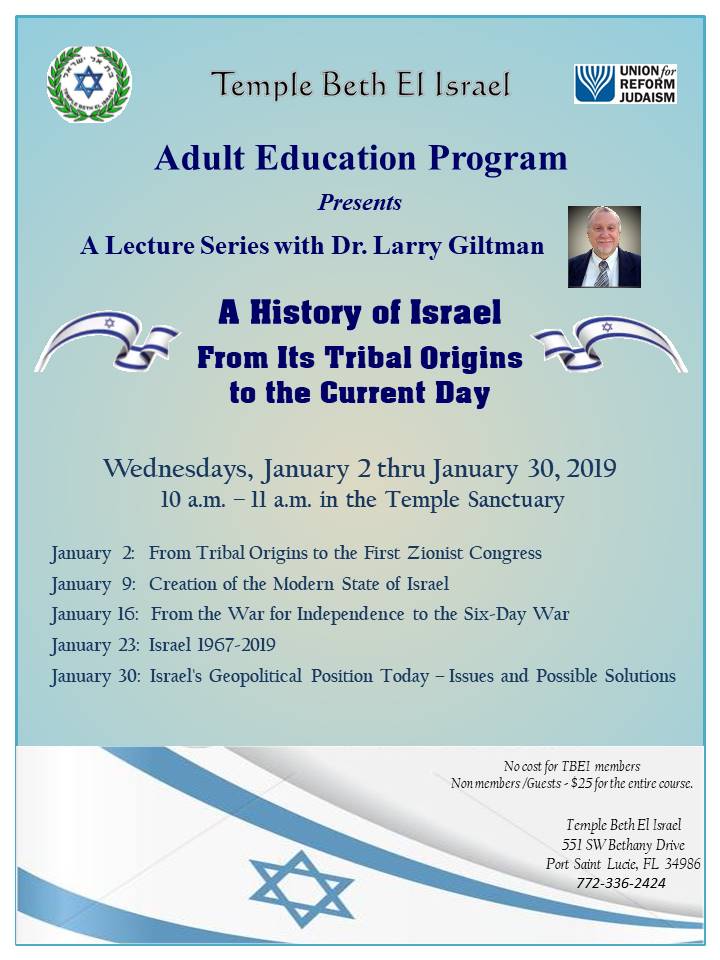 The Adult Education Committee is dedicated to providing year-round programming for Temple members and community guests. Take advantage of these informative and educational opportunities.
For additional information, please contact Flo Giltman at (772) 345-9150.