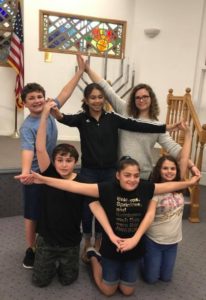 The Religious School of Temple Beth El Israel, the Rabbi, the Youth Education Committee, the Director, and all teachers are dedicated to the complete, Jewish religious and cultural education of the students. The goal of the school focuses on preparing the children for Bar and Bat Mitzvah while fostering the development of competent adult Jews.  The Religious School provides enrollees with a full and rich educational curriculum designed to
• educate students with a strong foundation in Judaism;
• develop informed Jews with a thirst for knowledge;
• provide subject matter addressing ethical, philosophical, and theological issues;
• offer opportunities to study Jewish law and lore with its unique spiritual expression.
The TBEI Religious School serves children from pre-kindergarten to tenth grade with volunteer opportunities open to youngsters after completion of confirmations.  The curriculum, written cooperatively by the Rabbi, the Religious School Director, and the Youth Education Committee Chairperson, has been designed to engage students during their Religious School experience.  Experiential instruction enhances traditional learning methodology. 
According to Talmud, the most valuable part of Torah study is not in the learning nor in the teaching but in the doing (Kiddushin 40b).  Instructional personnel practice this principle through a wide range of activities from crafts for the younger grades to mitzvah outings and experiential opportunities for the upper grades.
Students who complete the educational program available through Temple Beth El Israel will  
• have a sound foundation in TaNaCh (Jewish Bible), Jewish history, prayers, rituals, customs, traditions, and ethical and moral values;
• display comfort and confidence as active participants in Jewish religious services;
• internalize the values inherent in the Torah by nurturing respect and concern for others, giving tzedakah, and pursuing justice and righteousness in society;
• acquire basic Hebrew skills including reading and recognizing and translating site words;
• develop a full awareness of the potential Mitzvot in our lives;
• gain an identification and a familiarity with the Land of Israel, the State of Israel, and the History of Israel;
• express pride in being a vital and active member of the Jewish people.
Please speak with Rabbi Benson about enrollment.  Call the temple office at 772-336-2424 to schedule an appointment.