Growing & Fostering Our Jewish Community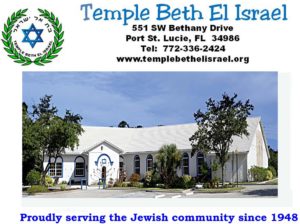 Temple Beth El Israel is an established congregation that supports a wide range of programs and activities for members of all ages. A primary goal of the Temple involves building a community based on inclusiveness, where everyone is welcome, regardless of age, marital status, sexual orientation, or a Jew by birth or by choice.
Questions?  Call 772-336-2424 (and leave a message).
Visit our Judaica Shop (by appointment only) to purchase special presents and religious items.
Support Temple Beth El Israel by adding Temple Beth El Israel as your charity of choice when you shop at 

All future activities, events, and meetings hinge on whether we are able to hold them due to the coronavirus pandemic.  Please watch for our updated calendar.
To watch Friday evening and Saturday morning Shabbat services, click on the YouTube icon at the top or bottom on this page…or click here.